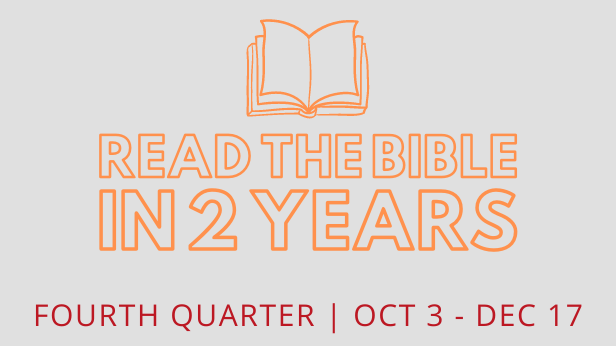 We have enjoyed spending time over the past two years (2020 & 2021) working our way through the entire Bible as a church family!
Even if you haven't participated to this point, this is still a great time to join in as the final section will cover the entire New Testament over eleven weeks. This plan has closely followed the ancient structure of the Hebrew Scriptures: the Law, the Prophets, the Writings and this final section in the New Testament. Here are the links to the first, second, and third quarter reading plans.
For each section of readings, we will post a video that introduces the readings for the week. We will also post supplemental videos each week we start a new book of the Bible.
Q4 | WEEK 11: Dec 12-17
Sunday: Watch/Read Overview
Monday: James 1-5; 1 Peter 1-5
Tuesday: 2 Peter 1-3; Jude 1-25; 1-3 John
Wednesday: Revelation 1:1 - 7:17
Thursday: Revelation 8:1 - 15:8
Friday: Revelation 16:1 - 22:21
The Bible Project Supplemental Videos
Q4 | WEEK 10: Dec 5 - 10
Sunday: Watch/Read Overview
Monday: 1 Timothy
Tuesday: 2 Timothy
Wednesday: Titus
Thursday: Hebrews 1:1 - 8:13
Friday: Hebrews 9:1 - 13:25
The Bible Project Supplemental Videos
Q4 | WEEK 9: Nov 28 - Dec 3
Sunday: Watch/Read Overview
Monday: Philemon 1 - 25
Tuesday: Colossians 1:1 - 4:18
Wednesday: Ephesians 1:1 - 3:21
Thursday: Ephesians 4:1 - 6:24
Friday: Philippians 1:1 - 4:23
The Bible Project Supplemental Videos
Q4 | WEEK 8: November 21-26
Sunday: Watch/Read Overview
Monday: Romans 1:1 - 3:31
Tuesday: Romans 4:1 - 6:23
Wednesday: Romans 7:1 - 8:39
Thursday: Romans 9:1 - 11:36
Friday: Romans 12:1 - 16:27
The Bible Project Supplemental Videos
Q4 | WEEK 7: November 14 - 19
Sunday: Watch/Read Overview
Monday: 1 Corinthians 1:1 - 7:24
Tuesday: 1 Corinthians 7:25 - 12:31
Wednesday: 1 Corinthians 13:1 - 16:24
Thursday: 2 Corinthians 1:1 - 7:16
Friday: 2 Corinthians 8:1 - 13:14
The Bible Project Supplemental Videos
Q4 | WEEK 6: November 7 - 12
Sunday: Watch/Read Overview
Monday: Galatians 1:1: - 3:29
Tuesday: Galatians 4:1 - 6:18
Wednesday: 1 Thessalonians 1:1 - 3:13
Thursday: 1 Thessalonians 4:1 - 5:28
Friday: 2 Thessalonians 1:1: - 3:18
The Bible Project Supplemental Videos
Q4 | WEEK 5: October 31 - November 5
Sunday: Watch/Read Overview
Monday: Acts 1:1 - 6:15
Tuesday: Acts 7:1 - 10:48
Wednesday: Acts 11:1 - 16:40
Thursday: Acts 17:1 - 21:40
Friday: Acts 22:1 - 28:31
The Bible Project Supplemental Videos
Q4 | WEEK 4: October 24-29
Sunday: Watch/Read Overview
Monday: John 1:1 - 4:54
Tuesday: John 5:1 - 8:11
Wednesday: John 8:12 - 11:57
Thursday: John 12:1 - 15:27
Friday: John 16:1 - 21:25
The Bible Project Supplemental Videos
Q4 | WEEK 3: October 17-22
Sunday: Watch/Read Overview
Monday: Luke 1:1 - 4:44
Tuesday: Luke 5:1 - 8:11
Wednesday: Luke 9:1 - 12:59
Thursday: Luke 13:1 - 19:48
Friday: Luke 20:1 - 24:53
The Bible Project Supplemental Videos
Q4 | WEEK 2: October 10-15
Sunday: Watch/Read Overview
Monday: Mark 1:1 - 4:41
Tuesday: Mark 5:1 - 7:37
Wednesday: Mark 8:1 - 10:52
Thursday: Mark 11:1 - 13:37
Friday: Mark 14:1 - 16:20
The Bible Project Supplemental Videos
Q4 | WEEK 1: October 3- 8
Sunday: Watch/Read Overview
Monday: Matthew 1:1 - 6:34
Tuesday: Matthew 7:1 - 12:37
Wednesday: Matthew 12:39 - 17:27
Thursday: Matthew 18:1 - 23:29
Friday: Matthew 24:1 - 28:20
The Bible Project Supplemental Videos