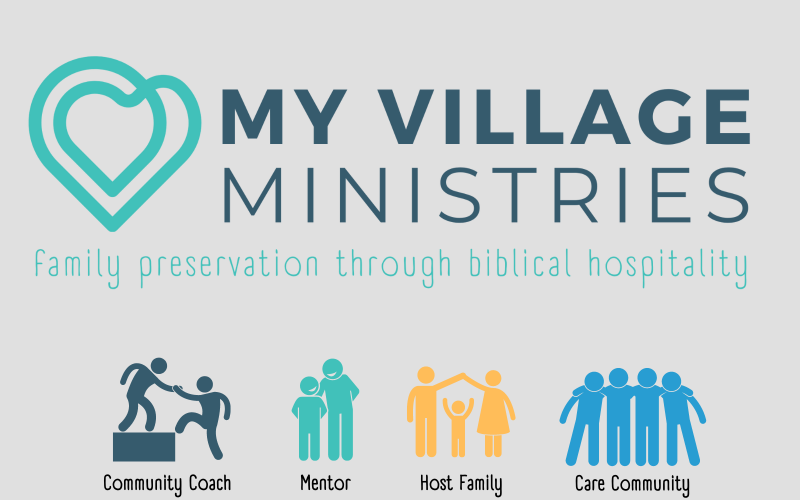 Linworth is excited to be a partnering church with My Village Ministries.
My Village Ministries (MVM) is a local organization that believes that difficult circumstances reach a breaking point when you are socially isolated. They also believe that the local church has a community ready to go to meet that need.
MVM seeks to provide family preservation through Biblical hospitality. When a family is facing a crisis that makes it difficult for them to care for their children, they can call the MVM referral line and find a host family that is able to host their children for a short period of time until they are back on their feet. During this time, the referring parent never loses custody of their children and has the right to be reunited with them whenever they desire. They will also be able to remain in close contact with them throughout the hosting.
There are several ways you can get involved in this ministry at Linworth:
Community Coach: In this role, you provide coaching, encouragement, and/or mentoring for the parent(s) of a family in crisis. You also support the host family to ensure the children being hosted are safe and well. This role receives training from MVM.
Host Family: In this role, you host the child/children of the family in crisis in your home. You also play the critical role of building a relationship with the parents of the family in crisis. The average hosting is 50 days, and this role receives training from MVM.
Mentor: In this role, you walk alongside a school-aged child that is being hosted - not just during the hosting, but often for a year after reunification, meeting every 1-2 weeks to be a consistent and encouraging influencer in their life.
Care Community: This is the team of people that wrap around host families to make sure they are supported during their hosting. They provide babysitting, transportation, encouragement cards, meals, or even resources for the hosting like diapers, wipes, car seats, clothes, gift cards etc.
Want to know more about how you can get involved? Contact LBC's MVM Ministry leads, Amy Fourman and Kara Deffet, at to learn more.
Know a family facing a crisis? The My Village Ministries referral line is 614-210-3267.